If you have any encouragement from being united with Christ, if any comfort from his love, if any fellowship with the Spirit, if any tenderness and compassion, then make my joy complete by being like-minded, having the same love, being one in spirit and purpose. Do nothing out of selfish ambition or vain conceit, but in humility consider others better than yourselves. Each of you should look not only to your own interests, but also to the interests of others. Philippians 2:1-4
It's BBQ time!
A good friend took some great pictures from the baby shower that our friends and family from church threw for us. Thank you!
Below are pictures of Kristine and I opening presents and the "Car-Toone" cake welcoming our little one in the world! For more pictures from the baby shower, visit this neat photo album on our friends' website.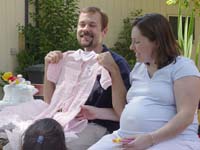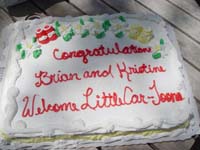 view more pics at our friends' website...
---
toone times | photo album | video album | tree people | contact | guestbook
© 2005, 2006, 2007 by Brian and Kristine Toone. All rights reserved. Digital images located anywhere on this website may not be reproduced in any form without verbal or written permission.